2021 Commission on Accreditation of Rehabilitation Facilities (CARF) Survey Findings, Section 1. ASPIRE to Excellence

Three-year Accreditation, through May 31, 2023, applies to the following program(s)/service(s):

Community Integration
Services Coordination
Supported Living

Areas of Strength


Programming provides a flexible schedule that allows consumers to make individual choices of interest throughout the day, rather than providing a rigid set schedule.
The organization is housed in attractive, accessible locations, which provide a fine environment in which to work and provide services. The facilities are well maintained and promote a positive image for the organization.
The Ralph Leek Elders program is designed for consumers who are aging or with physical limitations slowing their abilities to ambulate as quickly as they once did. The program meets the consumers where they are regarding their skills and adjusts accordingly.
The Amicus Evergreen Lodge provides a cozy and fun place for both consumers and staff.
The organization collaborates with the University of Maine Kinesiology/Physical Education program. On a rotating schedule, every spring and fall semester, a group of three-to-five consumers, with staff support from the Bouchea Center for Learning (BCL), are assigned to and work with a university student at the Student Recreation Center in Orono, Maine. The student develops and implements objectives and activities for consumers in both the pool and gym setting.
The organization collaborates with Husson University Occupational Therapy program, allowing two or three occupational therapy students during the fall and spring semesters to complete their 40-hour level 1 fieldwork experience observations with BCL's staff and consumers.
Annually, for over 35 years, the organization works with the local Kiwanis® and Elks clubs. A group of their members volunteer and provide BCL's consumers and staff members a barbeque and a day of fun activities.
Collaboration with Maine Adaptive Sports & Recreation resulted in consumers being able to enjoy a three-day summer camp.
Consumers in programs are active in Special Olympics, community events, and activities. Prior to the COVID-19 pandemic, consumers spent thousands of hours a year in community activities.
The organization has connected with the Bangor Public Library for book borrowing and music therapy sessions through Zoom video conferencing software.
The organization has a fleet of new late-model vehicles to ensure safe transportation and community access and to ensure that consumers and the organization are represented respectfully in the community.
The adaptive equipment loan program is a free service to the local community that permits any community member in need to borrow available adaptive equipment, such as wheelchairs, walkers, shower chairs, commodes, canes, crutches, bed rails, and hospital beds.
Amicus has an annual art show where consumers, with assistance from staff, create four-to-six pieces of art throughout the year using a wide variety of mediums. The art show is held in the spring and hosted by the consumers, allowing them to display, share, and discuss their pieces of art.
For over 20 years, consumers and staff have created holiday crafts and decorated wreaths, and, along with community contributions, hosted a holiday craft fair welcoming home providers, guardians, family members, and the community into the programs.
Amicus has an outstanding technological and risk management plan, in which it has thoroughly explored the organization's needs and barriers and set firm plans to implement change.
Amicus is led by a strong leadership team, exemplified by its outstanding executive director. The leadership team members appear to be a dedicated, close-knit group that is working very hard through the pandemic to provide services to the consumers. The team members were able to quickly adapt to providing services in new says, with fewer staff.
Staff members of the organization express they feel valued and well supported by the organization. They appreciate the good communication within the organization and the ongoing training being provided.
The staff at the organization reflects a cohesiveness to keep the needs and desires of the consumers at the forefront regardless of external pressure (i.e., the COVID-19 pandemic and funding and documentation requirements).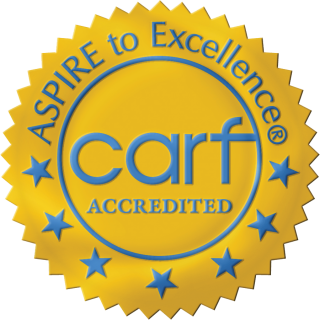 -CARF Accreditation Surveyors
March 1, 2021

Individuals have the flexibility to participate in activities and programs that meet their unique needs on that particular day. The staff respects and honors the wishes of consumers and facilitates individual growth by honoring their right to exercise self-determination.
Jeanne R., Elizabeth Levinson Center
I have an Adult Foster Home and have had several people attend the day program at PVI for many years. PVI has many programs and activities for the people to learn and grow in many aspects of their daily living. PVI also includes them in many community and cultural activities and events for them to explore. I feel that it is a wonderful program with a great staff.
We have several residents that attend RLE. It's nice to have a program in the area that is a slower pace for those who need it.
Brian Noble, Executive Director of Branches, LLC
Love it, and my friends" "I like all the group choices